Chile's President Pinera changes team after protests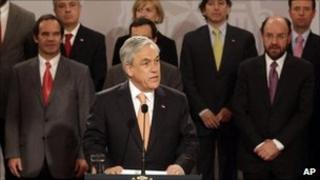 Chilean President Sebastian Pinera, facing protests in recent weeks, has made major changes to his cabinet.
It was Mr Pinera's second reshuffle in recent months.
The president's popularity peaked after the rescue of the 33 miners in October but his approval ratings have dropped to some 30% amid simmering unrest.
Students have been protesting to demand changes to the education system, while last week copper miners staged a one-day strike over restructuring plans.
President Pinera announced eight changes to his cabinet, including at the economy, energy and justice ministries.
"Our institutions, our leadership, are being tested by citizens who are more empowered, who are demanding greater participation and, above all, greater equality," said President Pinera as he swore in his new team.
Copper promise
Among the main names is Laurence Golborne, who as mining minister had a highly visible role during the miners' rescue.
He goes to the Public Works Ministry, a department which has assumed greater prominence, especially after last year's major earthquake.
His successor as minister of mines is Hernan de Solminihac.
President Pinera said major investment would be made in the mining sector and he denied there were any plans to privatise the state-run copper company Codelco.
"Codelco is going to remain in state hands, belonging to the Chilean people, but we also want it to be modern, efficient and fully capable of realising its potential," Mr Pinera said.
Felipe Bulnes, the former justice minister, moves to education - a key post as students continue to press for reforms, including lower university fees.
Thousands have taken to the streets of Santiago and other main cities, with some protests turning violent.
Mr Pinera took office last March, the country's first conservative leader for 20 years.