Rio de Janeiro luxury hotel guests robbed by armed gang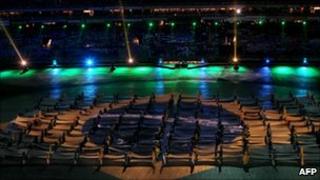 Armed robbers have invaded a luxury Rio de Janeiro hotel, robbing guests of money and phones, Brazilian police say.
Four men scaled the wall to enter the Santa Teresa Hotel in central Rio early in the morning, officers said.
Rio authorities have been occupying several shantytowns to root out drug gangs and tackle violent crime.
But security is an issue for Rio as it prepares to hold World Cup matches in 2014 and host the 2016 Olympics.
The Santa Teresa hotel, located in the neighbourhood of the same name, offers "peace of mind and safety" to guests, according to its website.
But security cameras showed four men getting over the perimeter wall in the early hours of Monday.
The attackers stole from at least 10 guests, among them foreign tourists, Brazilian media reported.
The robbers escaped and there were no reports of any injuries to the guests.
Preparations
Rio de Janeiro has long suffered a reputation for robberies and violence.
Last August gunmen took a group of some 30 people hostage at the Hotel Intercontinental, in Rio's Sao Conrado area, after a gun battle with police in a nearby street.
The authorities have stepped up efforts to tackle violent crime, with police units deployed in recent months in several favelas.
The city is currently hosting the World Military Games, bringing together some 6,000 athletes from 113 countries.
The event is being seen as part of preparations for the World Cup and the Olympics.