Brazil bullet train project fails to attract bidders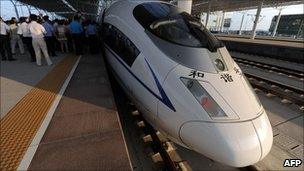 An auction to build a major high-speed rail link between Brazil's two main cities, Sao Paulo and Rio, has failed to attract any bidders.
The rail link is a key infrastructure project for President Dilma Rousseff's government, made even more important with Rio set to host the 2016 Olympics.
Bidding for the project, estimated to cost 38bn reais (£15bn; $24bn), will now be split into two stages.
Officials say work will start in 2013 but is unlikely to be complete by 2016.
The head of Brazil's National Agency of Terrestrial Transport (ANTT), Bernardo Figueiredo, put the blame for Monday's failed auction on national construction firms.
Foreign firms had found it difficult to form a consortium with Brazilian companies, a condition of the bidding process, he said.
The auction for the high-profile train project, known as TAV in Portuguese, has already been postponed twice.
To open it up to more bidders, officials said the auction would be split into two stages.
The first phase will be to choose the operator and technology of the high-speed train; the second will be for a company to build the project.
"We're doing this so that the work has the lowest costs possible, and attracts the biggest number of companies possible," said Mr Figueiredo.
He said the first auction could take place later this year, with the second in 2012. Construction is likely to begin in 2013.
Mr Figueiredo had previously said that the project was set to take six years to complete but that every effort would be made to ensure that part of the line was functioning in time for the Olympics.
The 500km (300 mile) link between Brazil's two biggest cities has long been on the drawing board.
However, transport specialists and construction firms have questioned the project's economic viability.
Brazil's main companies in the sector estimate the project will cost 60bn reais, far above the government's costing of 38bn reais.
The project has had interest from companies from South Korea, China, Germany, Japan, France and Spain.
Upgrading Brazil's creaking infrastructure, including airports and roads, is one of the key challenges for President Rousseff's administration.
Related Internet Links
The BBC is not responsible for the content of external sites.