Chilean copper miners strike over restructuring plans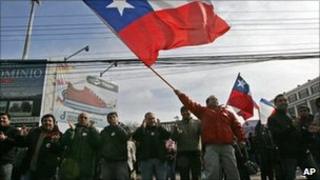 Miners from Chile's state-owned company, Codelco, have gone on strike for the first time in nearly 20 years.
They are angry at restructuring plans by the government of President Sebastian Pinera, saying this will lead to cuts in jobs and benefits.
The Copper Miners' Union says the ongoing reforms are part of moves to privatise Codelco.
Production was halted at several mines across Chile, the top copper-producing country, during the 24-hour stoppage.
Codelco - the world's largest copper mining company - has estimated losses from the strike at more than $40m (325m).
Key date
President Pinera has brought in new management at Codelco, as part of attempts to cut costs and reform the state-owned mining company.
In a statement, the Copper Miners' Union said it was clear that Mr Pinera's centre-right government was "preparing the ground for the privatisation of Codelco."
The union has insisted that it will not accept this.
To make the point, miners held the strike on the anniversary of the decision by the late President, Salvador Allende, to nationalise the Chilean mining industry 40 years ago.
Coldeco said the strike was not justified but it was still prepared to talk to the unions.
The labour unrest comes at a difficult time for President Pinera.
His popularity has declined sharply since the world watched him greet the 33 rescued miners from the San Jose mine, nearly nine months ago.