Triumphant return for ailing Hugo Chavez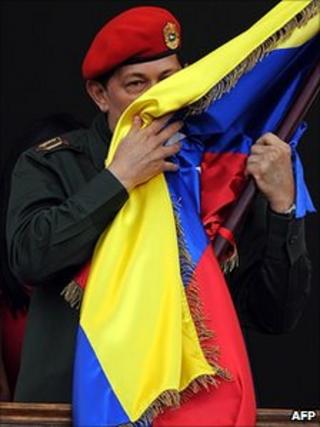 Thousands of supporters crowded into the streets surrounding the presidential palace in the Venezuelan capital Caracas to catch a glimpse of President Chavez in his first appearance before the general public since arriving back.
Dressed in military uniform with a red beret, he stood on the balcony of the palace to sing the national anthem and address his supporters.
It's been a triumphant return for the president who looked frightened and apologetic in his message to the nation broadcast last week in which he informed Venezuelans that he had been treated for cancer.
It seemed that the government had deliberately wanted to surprise the country with his return. New pictures of his recuperation in Cuba were released on Sunday with no hint that he might be back in Caracas within a matter of hours.
His plane landed at Maiquetia airport just outside the capital in the small hours of Monday morning in total darkness with only representatives of state media there to record the event.
In a subsequent telephone interview with state television, the president said his first priority would be to programme his medical treatment.
"I don't think I can accompany you tomorrow in the official events [to celebrate independence day]," he said. "But I continue in charge."
No obvious successor
Nevertheless, returning in time for the bicentennial celebrations is an important achievement for the president who likes to compare his socialist revolution with the independence struggle of his hero Simon Bolivar, 200 years ago.
The government has been planning the festivities for months. They will include a parade showcasing the country's military personnel and hardware.
That the president will be forced to watch proceedings indoors is an indication that he is still battling ill health. How much he will be able to resume his usual duties in the coming weeks is a question many want answered.
Throughout this episode, government ministers have insisted that the president was able to lead the country from his hospital bed in Havana.
While that might be a vote of confidence in the president from his inner circle, others have seen it as a symptom of the fact that Mr Chavez is central to Venezuelan politics and there is no obvious successor.
Opposition politicians have also been quick to point out how little information the government was willing to give about the president's health while he was away. They insisted for weeks that the president was recuperating from an operation for a pelvic abscess and rumours of cancer were quickly denied.
"The president said from Cuba that his whole cabinet knew about his state of health," said opposition lawmaker Ismael Garcia. "The government lied about the president's health."