Mexico's opposition PRI wins key state election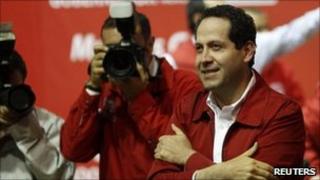 Mexico's main opposition party has convincingly held onto a key state in an election seen as an early indicator for next year's presidential poll.
The Institutional Revolutionary Party (PRI) saw its candidate, Eruviel Avila, elected governor of Mexico State with more than 60% of the vote.
The state's outgoing governor, Enrique Pena Nieto, is widely tipped to run in the 2012 presidential campaign.
The PRI governed Mexico for 71 years until 2000.
With most votes counted, Mr Avila was some 40 points ahead of his nearest rival, Alejandro Encinas, of the leftist Party of the Democratic Revolution (PRD).
Luis Felipe Bravo Mena, candidate for President Felipe Calderon's National Action Party (PAN), trailed on 12.5%.
The run-up to the election was dogged by accusations by rivals that the PRI was using old practices, such as giving out handouts in exchange for votes and using state funds to finance the campaign.
Mr Encinas said he would appeal against the result.
Eyes on 2012
The PRI has run Mexico State, which largely rings the nation's capital and is the most populous state with 15 million inhabitants, for decades.
However, Sunday's result was the PRI's best showing for years and party leaders were quick to hail the win as "historic".
"We are the party of the present and the future," the PRI's national leader, Humberto Moreira, said.
Commentators said the win was important for the party and for Mr Pena Nieto, 44, who currently has a big lead in the opinion polls.
"The margin is more than everyone expected, but the federal elections will move in a different direction. One shouldn't jump to the conclusion it will be the PRI at the end," Eurasia Group analyst Carlos Ramirez told Reuters.
The PRI was also on course for victory in two other states that held elections on Sunday, Coahuila and Nayarit.
These states have seen a big rise in drug-related killings.
The poor showing of Mr Calderon's party suggests increasing popular concern over the drug-related violence that has led to more than 34,000 deaths since late 2006, says the BBC's Julian Miglierini in Mexico City.
Voters' frustration at the slow pace of economic reform during the PAN's decade in power could also have played a part, analysts say.
The PAN defeated the PRI in 2000 when Vicente Fox was elected president. He was succeeded in 2006 by Mr Calderon, in a bitterly disputed election.