Colombia: Farc rebel chief Alfonso Cano 'escapes raid'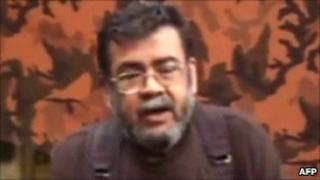 The leader of Colombia's Farc rebels narrowly escaped a raid on his camp, President Juan Manuel Santos has said.
Alfonso Cano escaped the camp "in the space of 12 hours" before Thursday's operation on the border of the Huila and Cauca districts, Mr Santos added.
Soldiers found Mr Cano had left behind his clothes, half his belongings and two dogs that normally accompany him. TV footage showed a rudimentary camp.
The Farc has been hit hard in recent years by Colombian government forces.
The group's top military commander Jorge Briceno, known as Mono Jojoy, was killed in an army bombing raid in September. And the army says it killed Mr Cano's head of security, Alirio Rojas Bocanegra, in March.
'Very close'
At a military airport in Bogota on Sunday, the president told reporters that the army had received a tip about the location of Mr Cano's camp from someone within the Revolutionary Armed Forces of Colombia (Farc).
The mountainous jungle area was bombed and then soldiers were sent in to capture the Farc's leader, but he had fled, Mr Santos added.
"We've verified that the night before Alfonso Cano slept at that camp."
Cigarette butts thought to be the brand favoured by Mr Cano were found on the ground around the camp, Mr Santos said.
Television pictures showed black tarpaulins slung between trees.
Mr Santos said it was the third time they had almost captured Mr Cano.
The Farc's leaders had lost what they considered their safe havens, and he had ordered government forces to "intensify" their pursuit, he added.
"We were very close to Cano," the president said. "He didn't die, but he was very close. Sooner or later he will fall, like all the other Farc leaders."
"We will keep pursuing him because we got him out of his traditional operation areas."
Mr Cano, a 62-year-old academic from Bogota, became the Farc's leader in 2008 after his predecessor, Manuel Marulanda died of a heart attack. His real name is Guillermo Leon Saenz.
The largest of Colombia's rebel groups, the Farc was founded in 1964 and has mounted a long-running insurgency aimed at toppling the Colombian government and establishing a Marxist-style state.