Witness in Colombian paramilitary court case killed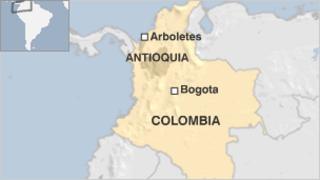 One of the main witnesses in a court case investigating politicians' links to right-wing paramilitaries in Colombia has been killed.
Luis Eduardo Gomez, 70, was shot dead by gunmen in his home in Arboletes, in north-western Antioquia province.
He is the second witness in the case to be killed this week, officials say.
Prosecutors are investigating scores of local politicians over their alleged links to the paramilitary United Self-Defence Forces.
The United Self-Defence Forces, or AUC, was formed by landowners and drug traffickers in the 1990s to combat Colombia's left-wing guerrillas.
The group demobilised under a 2003 peace agreement with the government, and around 30,000 fighters surrendered their weapons.
Mr Gomez, a freelance journalist, had testified in the court case which is investigating more than 20 local politicians over their alleged links to the AUC.
The group is accused of forcing thousands of people off their land as well as dealing in drugs, forcibly recruiting minors and killing hundreds of people they suspected of being rebels or rebel sympathisers.
Prosecutors say the AUC built up close connections with a number of local and national politicians, financing their campaigns in exchange for their backing in local government and Congress.
Many current or former members of Congress have been jailed or investigated for allegedly conspiring or collaborating with the AUC paramilitaries, in what has been dubbed the "parapolitics" scandal.
Mr Gomez's murder comes just days after the killing of Vicente Botero Arbelaez, who was also a witness in the case.
Prosecutors say five other witnesses are missing, while a sixth is part of a witness protection programme.
The government says many former AUC members now swell the ranks of the so-called Bacrin, short for criminal narcotics gangs.
Police suspect one of the Bacrins, Los Urabenos, of being behind the killing of Mr Gomez.