Cuba reveals more details of private property laws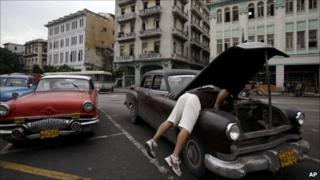 The authorities in Cuba have released more details of their plans to allow people to buy and sell their cars and homes for the first time in 50 years.
The new laws will open up a private property market and enable Cubans to buy any car they can afford.
Private property has been severely restricted on the Communist-run island since the revolution in 1959.
The proposed laws, which still have to be passed by parliament, are part of a shake-up of Cuba's struggling economy.
Communist Party newspaper Granma published details of the plans for the new laws, which it said had been discussed in a recent meeting of top government officials.
Under the proposed laws, which are expected to be passed by parliament by the end of the year, Cubans will be allowed to sell their home for money.
Under the current system, individuals can swap houses, but officially money cannot change hands.
The BBC's Michael Voss in Havana says the system has led to a corrupt black market involving underhand payments.
Cubans will still only be allowed to own one home, and the sale of homes will be taxed, but the move is aimed at easing Cuba's severe housing shortage.
Granma reported that a ban on the sale of cars registered after the 1959 revolution would also be lifted, a measure which will allow Cubans to buy and own any car they want.
The changes are part of a wider package of reforms aimed at updating the Cuban economic model.
Cuban President Raul Castro has championed limited free-market reforms since taking the reins of power from his brother Fidel in 2008.
In April, the Communist Party Congress backed 313 reforms which included relaxing the laws on foreign travel and allowing Cubans to set up small businesses.