Sandra Torres bid for Guatemala presidency 'rejected'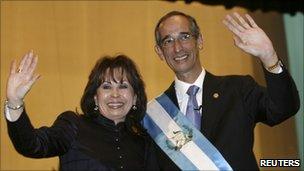 Guatemalan electoral officials have rejected the presidential candidacy of ex-first lady Sandra Torres for "supposed legal fraud", her party says.
Party leaders said they would appeal against the decision.
Ms Torres divorced President Alvaro Colom earlier this year to overcome a constitutional ban on close relatives of the president running for the job.
The opposition said the divorce was a cynical political ploy ahead of September's presidential election.
The decision by the Supreme Electoral Court is a further twist in attempts by Ms Torres to run for office.
She confirmed her intention to separate from her husband of eight years in March in a tearful address to the nation.
She said she and Mr Colom were putting their love for Guatemala ahead of their "great and solid" love for each other.
Opposition politicians denounced the move as electoral fraud and legal challenges were filed, temporarily halting divorce proceedings.
In May, Guatemala's constitutional court quashed all legal challenges to the divorce.
On Wednesday, the electoral authorities refused to register her candidacy.
Deputy Christian Boussinot, from the governing National Unity of Hope (UNE) party, told reporters the electoral court had based its decision on a "supposed legal fraud" by Ms Torres in divorcing her husband.
Party leaders said they respected the court's rulings but would be launching an appeal to ensure she could be registered as a candidate.
Ms Torres has played a prominent role in Alvaro Colom's presidency, supervising the government's poverty relief programmes.
If elected, she would be Guatemala's first female president.
But opinion polls put her well behind former army general Otto Perez Molina, who has promised a tough stance against rising crime.
Related Internet Links
The BBC is not responsible for the content of external sites.