Uruguay: President Mujica backs military rule inquiries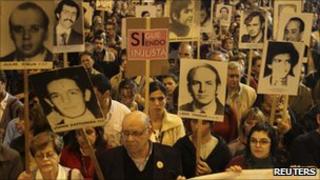 Officials in Uruguay say the country's President, Jose Mujica, will remove obstacles that have prevented courts from investigating alleged human rights abuses committed under military rule.
A government official said Mr Mujica would sign a decree later this week.
This will enable the courts to look into more than 80 cases previously blocked under an amnesty law.
Some 200 people were kidnapped and killed by the security forces during the 1973-1985 period of military rule.
An amnesty law providing a broad level of protection for members of the military and police was passed in 1985.
It is still in force, despite numerous challenges. In May, an attempt to annul it in congress narrowly failed.
The law has been ruled unconstitutional in the Supreme Court, but it has survived two national referendums, in 1989 and 2009.
'Ethical' decision
Under one of the amnesty law's provisions, the president could decide whether investigations into cases of alleged abuses should be allowed to proceed.
During the presidencies that followed military rule, many cases were blocked.
Now President Mujica - a former left-wing militant who himself was imprisoned and tortured under military rule - will revoke these decisions.
The presidential secretary, Alberto Breccia, said this was being done for "ethical" reasons, but also to comply with a recent ruling from the Inter-American Court of Human Rights.
Earlier this year, the court instructed Uruguay to guarantee that the amnesty law did not prove an obstacle in one such human rights investigation.
Mr Breccia also said that Uruguay had obligations under various international human rights treaties it had ratified.
In a statement, the president's office stressed that it would be up to the courts "to determine how each case will continue, and whether or not to take the files out of the archive".
It also explained why the president was not issuing the decree immediately.
This was to give time to any relatives who might - for their own reasons - no longer want cases re-opened to make representations to this effect.