Absence of ill Hugo Chavez sparks speculation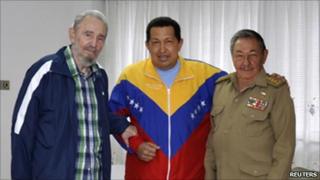 There is growing uncertainty in Venezuela over President Hugo Chavez's health, two weeks after he underwent an operation in Cuba for what the authorities said was a pelvic abscess.
On Friday the Venezuelan Foreign Minister Nicolas Maduro said Mr Chavez - who is still in Cuba - was in what he called a "great battle" for his health.
But Vice-President Elias Jaua accused the media of stoking speculation.
"We will have Chavez for a long time!", he said on Saturday.
The normally loquacious Mr Chavez, 56, had been uncharacteristically quiet since apparently undergoing surgery on 10 June in Cuba. He had been visiting the island as part of an international tour.
He had fallen silent after making a telephone call to state media on 12 June to tell them he was recovering quickly, and that medical tests showed no sign of a "malignant" illness.
Mr Chavez is normally a regular user of the micro-blogging site Twitter, but no messages were posted to the site for 19 days until Friday, when fresh tweets began to appear.
They did not directly address the question of his health. The latest tweet sent on Saturday evening said his daughter Rosines had arrived to visit him with his grandchildren.
Press 'rejoicing'
But correspondents say the resumption of tweets will do little to address speculation about the president's health.
He has not been seen - aside from in photos provided to the media showing Mr Chavez being visited by Cuban leaders Fidel and Raul Castro in hospital. And there is little clear indication of when he will return to Venezuela.
Opposition politicians have complained that it is unconstitutional for Mr Chavez to govern from abroad.
And correspondents say his absence has raised the question of who will succeed Mr Chavez, in the absence of any obvious candidate with Mr Chavez's charisma and ability to connect with his supporters.
But on Saturday Vice-President Jaua dismissed the speculation and drew a parallel with the reporting of an attempted coup d'etat in April 2002, when Mr Chavez was ousted from power only to be returned two days later in a triumphant show of popular and military support.
"Chavez is a human being who is recovering to continue the battle," Mr Jaua said.
"The national and international press are rubbing their hands and rejoicing about the state of the president's health, even talking about the president's death, as they did back on April 11," he said - referring to the 2002 coup.
"We tell them and remind them from here, that after April 11, there was an April 13" - the date when Mr Chavez was returned to power.