Heirs to Argentine Clarin media group take DNA test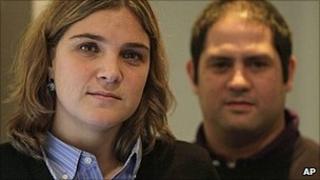 The adopted heirs to Argentina's main media group have given DNA samples hoping to quell suspicions they were stolen as babies during military rule.
Marcela and Felipe Noble Herrera said they wanted to end the "harassment" of themselves and their adoptive mother - the owner of Argentina's Clarin Group.
Samples will be compared with DNA from murdered political prisoners.
The issue of babies taken from prisoners in the "Dirty War" of the 1970s is highly emotive in Argentina.
Several hundred babies are believed to have been taken from detained parents and given to families loyal to the military during its 1976-83 rule.
Up to 30,000 people were kidnapped and killed in a state-sponsored crackdown on left-wing dissent, human rights groups estimate.
Rights group the Grandmothers of the Plaza de Mayo has campaigned for 10 years to have DNA samples from the Noble Herrera siblings analysed, but the battle has become increasingly politicised.
Rights 'violated'
In recent years Clarin - owned by Ernestina Noble Herrera - has been staunchly opposed to centre-left Argentine President Cristina Fernandez.
Mrs Fernandez has urged the courts to clarify the identity of the Noble Herrera siblings.
They in turn accuse Mrs Fernandez of using them in her row with their mother's company, something the government denies.
The siblings claim their rights have been violated.
"No-one wants to persecute them," said Cabinet chief Anibal Fernandez. Their identity, he added, "needs to be resolved and the easiest way to do it is with a blood sample".
If the tests prove the Noble Herrera siblings were taken from detainees, their adoptive mother could face a criminal investigation.
In 2009, Argentina's congress passed a measure allowing forcible extraction of DNA in such cases, even when the people concerned do not want to discover their past.
The Grandmother group aims to find children born to women held in secret prisons during the 1976-1983 dictatorship. It has identified dozens of illegally adopted children so far.