Brazil: Eight 'drug dealers' die in Rio raid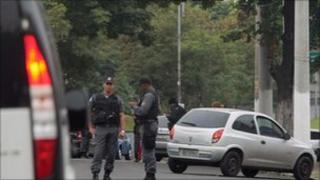 Police in Rio de Janeiro say eight suspected drug traffickers have been killed during a raid in a slum area.
The group died in two separate exchanges of gunfire - lasting several hours - in the Engenho da Rainha neighbourhood, military police said.
Police said they later discovered rifles, pistols and grenades.
The police have targeted a number of slums recently as they attempt to clear high-crime areas ahead of the 2014 World Cup and 2016 Olympics.
'Gunfire until dawn'
The operation started on Wednesday night, when Rio's Special Operations Battalion (the Bope) entered the Engenho da Rainha favela looking for suspected drug traffickers.
An intense firefight ensued between police and alleged gang members, and gunfire shook the neighbourhood until dawn on Thursday.
Police say the first confrontation started on the Guarabu Road just before midnight, when three suspected drug traffickers were killed.
According to Rio's military police, a short time later officers were fired on from another part of the favela. Five suspected traffickers were killed in the second exchange.
A local resident was also injured when he was caught in the crossfire.
Police said they confiscated two rifles, ammunition, three pistols, two grenades, and a quantity of drugs during the operation.
Rio de Janeiro has long been considered one of the most violent cities in Brazil, but analysts say that among the country's urban areas it has seen the biggest fall in criminal activity in recent months.