Mexico urges inquiry as US agent shoots man on border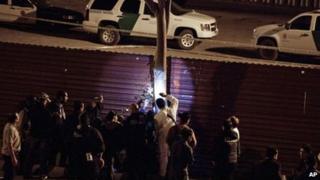 Mexico's government has condemned the fatal shooting of a Mexican man who was allegedly throwing stones at US agents across the Tijuana-San Diego fence.
The Mexican foreign ministry said the use of firearms to repel stone-throwing was "disproportionate".
San Diego police said the man had struck one agent and was about to hit another when he was shot.
There have been several fatal border shootings in recent years, increasing the controversy over the use of force.
The shooting happened late on Tuesday near the San Ysidro crossing point between Tijuana and San Diego.
According to US authorities, three men were trying to get over the border when they were stopped by two agents.
Two of the men fled back across the fence and began pelting the agents with stones, they said.
When one of the officers was hit, the other opened fire.
Mexican police said the man, identified as Jose Alfredo Yanez, was shot twice and died on the Tijuana side of the border.
Serious injury
Mexican President Felipe Calderon said on his Twitter account that he had raised the issue with US Secretary of State Hillary Clinton in Guatemala, where both were attending a security conference.
"I demanded that those guilty be punished," Mr Calderon wrote.
The Mexican authorities and rights groups say the US Border Patrol uses excessive tactics to deter migrants.
"We simply cannot allow our law enforcement agents to use lethal force when confronted by rock throwers," said Kevin Keenan of the American Civil Liberties Union.
But the Border Patrol says rock attacks on its agents are frequent and capable of causing serious injury.
"Agents don't shoot their weapon unless they fear for their lives or the lives of their partners or innocent third persons," Justin De La Torre, acting assistant chief patrol agent in San Diego, told the Los Angeles Times.
In one of the most high-profile shootings, agents last June shot dead a Mexican teenager at the border crossing between Ciudad Juarez and El Paso. The FBI concluded that the agent fired while fending off a rock attack.
This latest shooting is being investigated by the San Diego police and the FBI. The Mexican authorities are also conducting their own inquiry.