Peru university protest 'leaves three dead'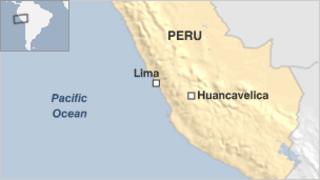 Three people have died in clashes between students and police over plans for a new university in central Peru, officials say.
More than 30 people were said to have been injured in the violence in the city of Huancavelica.
Students are protesting over plans for a new university which they say will harm the viability of an existing one.
Regional President Maciste Diaz Abad has urged calm and called a meeting of senior ministers.
Authorities said the clashes erupted late on Tuesday and went on into the night.
Students had earlier set light to three regional government offices, officials said.
The students say the creation of a new university in Tayacaja - part of the central region of Huancavelica - will divert resources from the National University of Huancavelica in the regional capital.