Haiti parliament rejects President Martelly's PM choice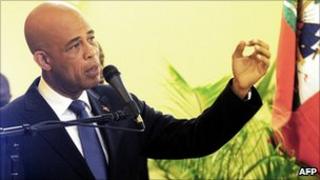 The Haitian parliament has rejected President Michel Martelly's choice of prime minister, in an early political blow to the new leader.
Deputies voted 42 to 19 to turn down Daniel-Gerard Rouzier for the post.
Several deputies argued that there could be a possible conflict of interest as Mr Rouzier runs companies that have government contracts.
The next prime minister will have a key role in overseeing efforts to rebuild after the deadly January 2010 quake.
President Martelly, who took office in May, said he was disappointed by the decision but he would accept it.
The search for a new nominee could take several weeks.
The two chambers of parliament are dominated by the Inite party, which backed Mr Martelly's rival for the presidency.
During Tuesday's debate, some deputies opposed to Mr Rouzier suggested he had not paid his full taxes - an allegation he has dismissed.
Taking office, Mr Martelly pledged to speed up earthquake reconstruction.
Thousands of Haitians still live in tent cities after the devastating quake.
But the new president needs a prime minister in order to assemble a government that can work with international agencies involved in the task of rebuilding.