Venezuela jail: 36 leave El Rodeo prison amid stand-off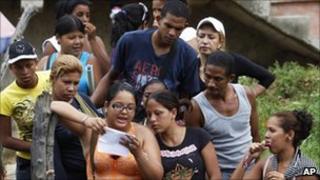 Venezuelan troops have escorted 36 prisoners out of a jail near Caracas where armed inmates are resisting the army's attempts to retake control.
A National Guard spokesman said the men had been "hostages of violent prisoners".
There have been gunfights since Friday between some 5,000 members of the security forces and inmates holed up in a wing of El Rodeo prison.
Some 2,500 prisoners have been moved from the complex to other jails.
Last Friday, troops took over most of El Rodeo jail in Guatire, after a riot between rival gangs of prisoners on 12 June left some 20 people dead.
But a stand-off continues in one section of prison.
'Weapons of war'
On Monday, troops managed to free 36 men from areas no longer held by rebellious prisoners, Interior Minister Tareck El Aissami told state television.
Mr Aissami has said that one prisoner and two National Guard troops have been killed during the clashes.
An inmate reached by mobile telephone told the Associated Press that there had been 17 deaths.
Troops were using what he called "weapons of war" against them, prisoner Rafael Contreras said.
Hundreds of relatives are outside the jail, anxious for news.
Authorities say a group of what they call "hostile" inmates are using their weapons to control some 1,000 prisoners in one section of the prison.
Venezuela's overcrowded prisons see frequent riots between rival gangs.
The prison system, built to hold about 14,500 inmates, is currently estimated to house some 46,000 prisoners, according to the Venezuelan Prisons Observatory, which monitors prison conditions.