Guatemala: Ex-armed forces chief Lopez Fuentes arrested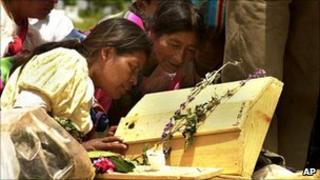 Guatemalan authorities have arrested a former armed forces chief accused of joining in massacres during the nation's civil war nearly 30 years ago.
Retired general Hector Mario Lopez Fuentes, 81, was detained in the capital, Guatemala City, on Friday.
Human rights groups have accused him of participating in genocide and crimes against humanity during the military government of Efrain Rios Montt.
It is not clear how Mr Lopez Fuentes is likely to plead to the charges.
Guatemala's office of public prosecutions said he was accused of being the intellectual author behind the killings of more than 300 indigenous Maya civilians from the Ixil region in 1982 and 1983.
It is the latest high-profile arrest linked to alleged crimes committed during the country's 36-year civil war.
More than 200,000 people were killed or disappeared during the conflict, the vast majority at the hands of the security forces.
The security forces at the time said they targeted left-wing guerrillas during counter-insurgency operations.