Venezuela: 19 inmates killed in prison gang fight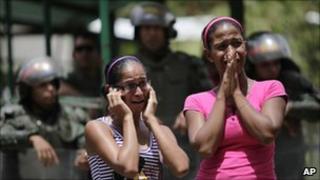 Some 19 people have died and many more have been hurt in a prison riot in Venezuela, officials say.
Two rival gangs had confronted each other in El Rodeo I prison near the capital Caracas on Sunday, said Interior Minister Tareck El Aissami.
The situation has since calmed down, local media reports say, but 150 people remain in front of the jail awaiting news of their jailed relatives.
There have been a number of riots in Venezuelan jails this year.
Prisons in the country are notoriously overcrowded, with reports suggesting they are three times over capacity.
The Inter-American Commission of Human Rights has urged Venezuela to take action to tackle violence and insecurity in its prisons, and to protect the human rights of inmates.
The campaign group Venezuelan Prison Watch says 476 inmates died inside Venezuela's prisons in 2010.
The government had put a plan in place to reform the prison sector and had allocated almost $100m (£60.1m) for the task, said Mr El Aissami.
But he admitted that the government's efforts had so far not been enough to tackle "the sheer drama, urgency and complexity of the problems besetting the prison system".