Venezuela's Hugo Chavez recovers after surgery in Cuba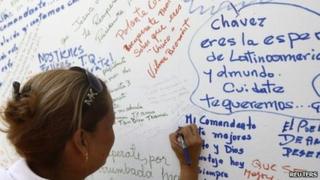 Venezuelan President Hugo Chavez says he is recovering well after surgery in Cuba last week for a pelvic abscess.
Mr Chavez, 56, told the Caracas-based Telesur network that he was carrying out his duties from Havana.
He did not give a date for his return, although officials say he is expected back "in the coming days".
Mr Chavez, known for his high-profile style of governing, had just recovered from a knee injury that had kept him out of the public eye in recent weeks.
President Chavez was diagnosed with a pelvic abscess during an official visit to Cuba last week and underwent surgery on Friday.
"The operation was very successful. Fortunately Cuba has one of the best health systems. I fell ill in a good place," Mr Chavez told Telesur by phone.
Medical tests showed no signs of any "malignant" illness, he said.
Asked when he was planning to return to Venezuela, Mr Chavez said it depended on how his recovery went.
Venezuelans are used to almost daily appearances by President Chavez.
But in May, a knee injury forced him to postpone a regional tour and cancel his attendance at public events.
Mr Chavez's supporters came on to the streets in several cities on Sunday to wish him a speedy recovery.
"We're sad because this happened to you, but we feel better because we know you're going to recuperate," one supporter, Carmen Zerpa, told the Associated Press.
But opposition legislator Maria Corina Machado said an absence of more than five consecutive days by the president needed to be approved by the National Assembly.
"The president should give the National Assembly a report about his health in order to avoid uncertainty," she said in a Twitter message.