Chile ash: Argentine, Uruguayan airports opening again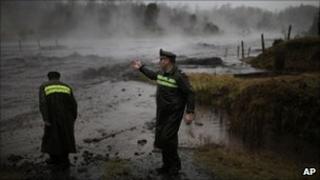 Flights in and out of major airports in Argentina and Uruguay are starting to return to normal, following two days of disruption caused by a vast cloud of ash from an erupting Chilean volcano.
Argentina's two most important airports, both in Buenos Aires, re-opened late on Friday.
The main airport in the Uruguayan capital, Montevideo, followed later.
Meanwhile Qantas airline has cancelled a number of flights between Australia and New Zealand because of the ash.
Chile's Puyehue-Cordon Caulle volcano range began erupting a week ago.
Strong winds in the high atmosphere have now carried fine ash particles as far as Tasmania, some 10,000km (6,200 miles) west of the volcano, which is on a similar latitude.
Ski season fears
Most flights in and out of Montevideo's Carrasco international airport were running normally on Saturday.
And the airport authorities in Buenos Aires say they hope flight schedules will be back to normal by Monday.
However, several other airports in Argentina - mainly in Patagonia - remain closed, raising fears for the region's ski season, at the start of the southern winter.
By Friday, workers in the Patagonian resort town of Bariloche had filled 600 lorries with ash that had fallen on the local airport's main runway.
Forced evacuation
Meanwhile, just across the border from Bariloche, in Chile, the volcano continues to erupt.
On Friday, government scientists monitoring the volcano reported seismic activity there had decreased slightly since the day before.
A nearby river, Nilahue, which runs off the slopes of the volcano, has broken its banks, being clogged by ash sediment.
Its waters are steaming, having in places been heated by volcanic material to 45 degrees Celsius (113 degrees Fahrenheit).
The authorities have repeated warnings that recent heavy rains could cause landslides of volcanic debris.
Most of the small communities in this area have already been evacuated.
But on Friday, the authorities were putting together a specialist police squad to evacuate the last 14 people in the exclusion area, against the residents' will.
This is the first serious eruption of the volcano chain since 1960, when the area was hit by a massive earthquake.
Chile is one of the most volcanic countries on Earth. There are more than 3,000 volcanoes dotted along its length, and around 80 of them are active.