Guatemala disappearance: Former police chief arrested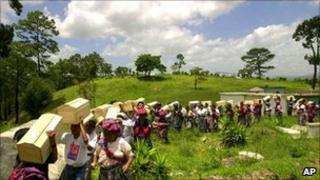 A former Guatemalan national police chief has been arrested over the disappearance of a student union leader during the country's civil war.
Hector Bol de la Cruz was arrested at his home in the Jutiapa region, in the south-east of the country.
He is accused of being behind the disappearance of Fernando Garcia, who has not been seen since he was arrested in Guatemala City in 1984.
Two former policemen were jailed 40 years each in 2010 for their role.
Correspondents say Guatemala's centre-left government has been under pressure to bring to justice those accused of crimes committed during the country's civil war, which lasted from 1960 to 1996.
More than 200,000 people were killed or disappeared during the conflict, the vast majority at the hands of the security forces.