Chinese oil workers 'kidnapped by Colombia rebels'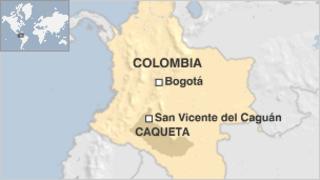 Three Chinese oil workers and another foreigner have been kidnapped in southern Colombia, officials say.
The abducted men work for Emerald Energy, a UK-based subsidiary of Chinese oil firm Sinochem.
The men were seized while driving near the town of San Vicente de Caguan in Caqueta province, said local government official Edilberto Ramon Endo.
He blamed the kidnapping on guerrillas from the Revolutionary Armed Forces of Colombia (Farc).
The nationality of the fourth kidnap victim, who was working as the group's translator, is unclear, with some reports suggesting he was also Chinese.
The group's Colombian driver was set free by the rebels, Mr Endo said.
In a statement, Emerald Energy reportedly said the reason for the kidnapping had not been determined.
In March, Farc kidnapped a group of 23 contractors working for Canadian oil company Talisman Energy in eastern Colombia, but the men were freed within hours as the kidnappers were pursued by Colombian soldiers.
Oil production is growing quickly in Colombia, currently the region's fourth largest producer.