Peru's president-elect Humala eyes stronger US ties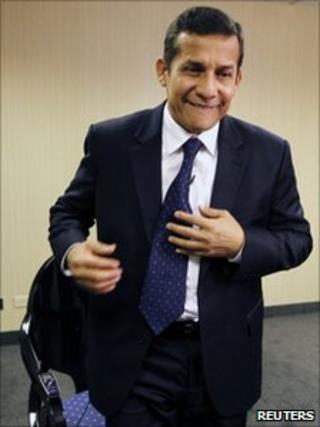 Peruvian President-elect Ollanta Humala says he wants to strengthen ties with Peru's South American neighbours and the US - a "strategic partner".
Mr Humala also said he would work to maintain Peru's strong economic growth.
Peru would follow its own model, he said, rejecting suggestions that he would be a copy of his former ally, Venezuelan leader Hugo Chavez.
The leftist former army officer defeated right-wing candidate Keiko Fujimori in Sunday's second round vote.
His victory, by three percentage points, prompted an immediate fall on the Lima stock exchange but shares subsequently rallied.
Peru's economy "has been growing for more than eight years at a rate of 7% to 8%, which shows that in real terms the economy is solid and that the Monday (downturn) was market speculation", Mr Humala told the French news agency AFP.
In a series of interviews with foreign media, Mr Humala insisted he would work to protect Peru's economic performance.
"We think the path for Peru is its own road, without copying other countries. That needs to be very clear," he told Reuters.
Visits planned
During the election campaign, Mr Humala's critics expressed fears he would embark on interventionist policies similar to those of Mr Chavez in Venezuela.
Mr Humala has insisted he is more in sympathy with Brazil's moderate left-wing approach.
The president-elect, who will be inaugurated on 28 July, is due to embark on a tour of Brazil, Uruguay, Argentina and Chile.
He said he wanted to co-operate with other countries to tackle poverty, inequality and malnutrition in Latin America.
"We want to work on Latin American integration beyond the ideological issues because we are all working for our own national interests," said Mr Humala.
Tackling drug-trafficking is a key task and for that Peru saw the US as a "strategic partner", he said.
Mr Humala campaigned on a pledge to increase the state's role in the economy and redistribute wealth to Peru's poor majority.
This worried business leaders and investors, but on Tuesday he told Reuters there was room to discuss a proposed windfall profits tax on mining companies.