Chile volcano: Some flights resume as ash effects ease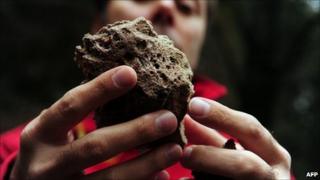 Flights in South America are resuming, after being disrupted by clouds of ash spewed by a volcano range in Chile.
Argentina's main airport in Buenos Aires has reopened, though some smaller airports remain closed.
Chile's Puyehue-Cordon-Caulle volcano range, about 800km (500 miles) south of Santiago, began erupting on Friday.
Earlier, flights to and from Buenos Aires were suspended, while in Chile, Santiago airport also saw cancellations.
Aviation officials said about 60 flights - domestic and international - from Ezeiza and Aeroparque airports in Buenos Aires had been cancelled.
Argentine officials are monitoring the spread of the ash, and said earlier they feared some volcanic pollution could reach Buenos Aires province and the capital during Tuesday.
But Argentina's national civil aviation later said that both airports were "open and operational".
Flights from Santiago to various cities in Argentina, Uruguay and Brazil were also suspended by Chilean carrier Lan and Brazil's Tam Airlines due to the ash cloud, the Spanish news agency Efe reported.
Several airports further south were closed, as were border crossings between Chile and Argentina.
Blanketed in ash
Officials say there is a danger of flash floods caused by rivers being silted up with volcanic grit.
An estimated 4,000 people have already left the region around the volcanoes and Chilean officials have been trying to persuade more people to go.
They are concerned that the volcanic material could clog rivers and cause them to burst their banks.
"The forecast is for more rain on Tuesday, Wednesday and Thursday," an official from the national emergencies office (Onemi) told Efe news agency.
Ski slopes in the Argentine resort of Bariloche, about 100km (62 miles) east of the volcano, have been blanketed in ash.
Changing wind directions have pushed the ash cloud back and forth across southern Argentina and Chile.
This is the first serious eruption of the volcano chain since 1960, when the area was hit by a massive earthquake.
Chile is one of the most volcanic countries on Earth. There are over 3,000 volcanoes dotted along its length, and around 80 of them are active.