Mexico drugs war: Relatives march to demand justice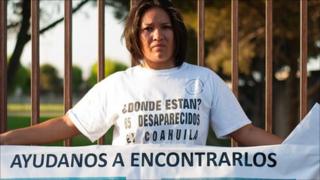 Hundreds of people have been taking part in a week-long "peace caravan" in Mexico to protest against the violent drugs war.
The 2,500km (1,550 mile) journey was led by poet Javier Sicilia, whose son was killed by suspected drug-gang hit-men in March.
He has called on the authorities to do more to stop the bloodshed. Mexican President Felipe Calderon has said there is no option to withdraw from the fight against the cartels.
Starting in Cuernavaca, the caravan crossed Mexico's northern states, ending in Ciudad Juarez, the city on the US border considered to be the world's murder capital.
Some of the relatives who have taken part explain why:
Guadalupe Retana in Cuernavaca - son, 36, murdered
On 23 June, 2010, that's when my son, Juan Carlos Villamil Retana, died, that's when they killed him.
For me there is nothing left. I can't go forward. I don't know what happened to him but I am afraid of finding out more because I have two other sons. I am scared something will happen to them too.
He was a taxi driver with two children, 15 and 20 years old. He went to see a piece of land to build a house. They killed him with two shots.
I didn't even see how he was buried because I kept fainting during his funeral.
I'm asking for justice. That's why I joined this caravan, I want justice.
I don't feel hatred towards the person that killed my son, because it wouldn't help me get him back.
I don't know who the murderer is. I only ask for justice, I want that person to go to prison, nothing more.
Martin Azalea Torres in San Luis Potosi - son, 26, murdered
My son, Juan Martin Azalea Ramos, was killed on 21 June, 2010, by two people, in a cowardly fashion.
They shot him twice.
An arrest warrant was issued, but police haven't carried it out.
My son was hard-working. He was a street vendor, married with two children aged two and four.
He was out with two friends. They got out of the car and were shot. It was 3.30pm here in the city.
This caravan gives us hope to keep fighting so that those responsible are made to pay and so that justice can intervene when it is meant to.
Here in San Luis Potosi, there is a climate of fear like many other cities in Mexico.
This march encourages us not to stay silent, to keep fighting, to be able to keep standing.
Ofelia Castillo Mauricio in Zacatecas - son, 35, disappeared
I am looking for my son because he has been missing for almost a year. He disappeared on 13 July 2010 from his workplace.
He was in the military for 10 years and then left the army and went to work as a municipal policeman in the town of Calera.
My daughter-in-law spoke to him at 4am and he said he would call her back, but never did. She tried calling him back at 5am but the call went straight to the answering machine.
When he was not back at 10am she called the police headquarters and she was told he was on a course. But then at 4pm she called back and was told that he had left in the morning and had not gone on a course.
He has five children. One was born after he disappeared.
I became so depressed when he disappeared, I couldn't eat anything.
That's why I came here. This is my first time speaking out, because I was scared. If I knew where his body was, I would go look for him.
There are so many journalists here, maybe they can help me find him.
Erika Verastegui Escobedo in Saltillo - father, 52, and brother, 19, disappeared
My father, Antonio Verastegui Gonzalez, and my brother, Antonio de Jesus Verastegui Escobedo, disappeared on 24 January 2009. They were stopped at a checkpoint and they never came back.
We tried to get in touch with the police but all the offices were closed. Nobody listened to us.
We were even threatened. We were told to stop looking for them, that they would come back for us.
Now, two and a half years later, there has been no progress in the investigation.
My brother studies mechanical engineering. My father is a farmer. They are honest people. They always liked baseball.
I hope we can find them alive. It is difficult because you feel alone, but with this kind of march you can express your pain.
I believe that more and more people will join this caravan. Here in Saltillo, for example, there are many cases of people who have disappeared but people don't believe it.
We need this kind of event so that people can believe it.
Olga Reyes in Ciudad Juarez - four brothers and sisters, a nephew and a sister-in-law killed
There are a lot of troops that enter private homes and take away what they like. My sister started denouncing this with the authorities.
That's when the persecution against my family, especially against my sister, started.
In two years I have lost six people. There is no information as to whether it was because of the organised crime, because nothing is investigated.
I am scared. But I want to keep on fighting so that those responsible for my family's deaths will be brought to justice.
This movement is very good. I believe that little by little people will get rid of fear in Mexico. They will gain courage, they will speak out.
We have to get rid of our fears and go out into the streets to protest.
It is not possible for this situation to go ahead like this, and that we stay in our homes crying.
This can't keep on happening. There are many disappearances, many killings, a lot of unemployment.
Let's not keep quiet.
Interviews by Irene Caselli