Chile volcano eruption: Alert remains for ash cloud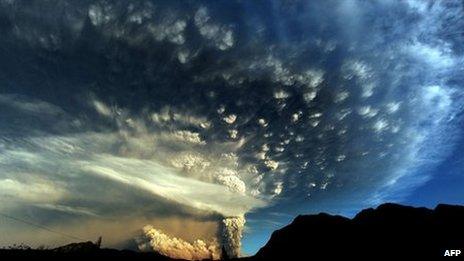 Authorities in southern Chile and Argentina are continuing to monitor the direction of ash clouds belched out by a chain of volcanoes over the weekend.
Some 3,500 people left the region after the eruption of the Puyehue-Cordon-Caulle volcano range, about 800km (500 miles) south of the capital, Santiago.
Wind carried ash across the Andes, dropping a grey blanket on the Argentine resort of of Bariloche.
A change of direction then sent ash back to the Chilean side.
San Carlos de Bariloche, about 100km (62 miles) east of the volcano, remains on alert.
Authorities said classes and other public activities were cancelled, and flights were likely to remain suspended until mid-week.
The health ministry has also sent face masks and eye drops to the region, local media reported.
In Chile, officials are also monitoring the situation.
Many local residents left the area, to stay either with relatives or in shelters, officials said. However, some decided to stay, not wanting to abandon their animals.
"The situation is very complicated," said Santiago Rozas, mayor of Lago Ranco, a town about 70km (40 miles) north of the volcano range.
"The shift [of wind direction] means that we will have a rain of ash, with damage for the population and a threat to smallholder farming," he told the Associated Press.
This is the first serious eruption of the volcano chain since 1960, when the area was hit by a massive earthquake.
Chile is one of the most volcanic countries on Earth. There are over 3,000 volcanoes dotted along its length, and around 80 of them are active.
Related Internet Links
The BBC is not responsible for the content of external sites.