Venezuela's Hugo Chavez orders prisoner abuse probe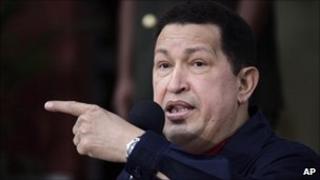 Venezuelan President Hugo Chavez has called for a thorough investigation into reports of the deaths of three prisoners in police custody.
Mr Chavez said the police force had to be cleaned up so there would be no more hitting or torturing of inmates.
Of the three prisoners who died in the past few weeks, forensic tests suggested at least two of them had been beaten and drowned.
Four police officers have been arrested in connection with the allegations.
"I congratulate the great majority of the police who do their job, but one rotten apple can spoil the barrel," President Chavez said.
"You can't mistreat, hit or harass a prisoner for any reason," he urged police officers in his weekly TV programme "Alo, Presidente".
'Bruised and drowned'
The prosecutor general's office announced last week it would investigate the deaths in police custody of the three prisoners.
Forensic pathologist Franklin Perez said two of the prisoners had died of brain oedemas, or swelling, caused by drowning and that the bodies of all three showed bruising.
The inmates' families have blamed the police for their deaths.
The campaign group Venezuelan Prison Watch says 476 inmates died inside Venezuela's prisons in 2010.
Prisons are notoriously overcrowded with reports suggesting they are three times over capacity.
The Inter-American Commission of Human Rights has urged Venezuela to take action to tackle violence and insecurity in its prisons, and to protect the human rights of inmates.