How Cuba's economic reforms are taking root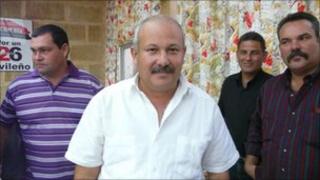 Cuba has seen a raft of reforms in recent months aimed at updating the island's stagnant Soviet economic model.
But the ageing generation which led the revolution 50 years ago remains firmly in charge.
And as President Raul Castro celebrates his 80th birthday on 3 June there is little sign of imminent change, with no obvious younger successors in sight.
Go a little deeper though and there are some fresh faces taking up posts.
The Communist Party Congress in April elected a number of new officials to the powerful 115-strong Central Committee.
The military is well represented and so are provincial party bosses.
Among these are men like 54-year-old Jorge Luis Tapia who is the first secretary of the Communist Party in the central province of Ciego de Avila.
The Cuban authorities invited the BBC and other foreign media based in Havana to visit the province, about 450km (280 miles) east of the capital, for a tour of its factories and farms.
It was a rare opportunity to see how changes are being implemented on the ground.
Real power
"We are stimulating the non-state sector here in order to increase employment and new types of services," Mr Tapia said during a briefing at his party headquarters in Ciego de Avila.
Also present was the elected president of the provincial assembly, Jose Ignacio Quinones.
Mr Quinones gave us information about the province - population about 400,000, known for its pineapples and sugar, and its beaches attract tourists.
But it was clear the real power was with Mr Tapia, who took centre-stage to answer questions about economic reforms.
"We have to change our mentality, to be closer to the private sector, engage with them and know more about their concerns," he said.
Shrinking harvest
First farm on the tour was a sugar collective.
The coach ride there took us past a rusting former sugar mill, a striking reminder of how Cuba was forced to drastically reduce production when its major customer, the Soviet Union, collapsed.
Cuba was one of the world's largest sugar producers, but last year's harvest was the smallest for a 100 years.
Until recently everyone on this state-owned farm earned the same. Now moral incentives have given way to productivity-related pay.
"A lot has changed in the past year," said farm labourer Ubilde Suarez, adding that his wages had almost doubled since the productivity scheme was introduced.
As well as paying farmers based on how much they produce, the state has also set aside land on the collective farms where they can grow their own food.
"It was decided to look at how to rescue the link between the workers and the sugar fields, to give people a greater sense of belonging," explained Jorge Felix Martinez, the communist party official in charge of agriculture in the province.
Private farmers
Elsewhere in Ciego de Avila, small-scale individual farms are on the increase as the government leases out unproductive state-owned land to private farmers and co-operatives. So far 8,000 plots have been handed over.
In the towns, more people are becoming self-employed or opening small businesses of their own.
However, large-scale privatisation is not on the political agenda.
All of the factories we visited were state-owned and boasted brand new machinery imported from Europe and paid for by the relevant ministries in Havana.
Unusually for Cuba many of them were able to sell their products for hard currency.
A furniture manufacturer was selling most of its tables, chairs and beds to the international tourist resorts rather than to local families.
The same was true of Citricos, a food processing company providing tinned food, jams and fresh fruit and vegetables to the hotels.
In a sign of the times, some of the produce is now sourced from private farmers.
"The products we receive come from every form of property ownership which exists in the country: private farmers, co-operatives and the state sector," general manager Nelson Paz said.
The company also operates a productivity bonus scheme but with more than 3,000 employees, the workforce will have to be trimmed.
'No jobs for life'
In a bid to tackle over-staffing, the government has warned that there are no more jobs for life.
About one million state workers are due to be laid off in the coming years, with the fledgling private sector intended to help take up the slack.
So what sort of balance did Central Committee member Jorge Tapia envisage between the two sectors in Ciego de Avila in five or six years' time?
"Small co-operatives such as those in catering and building will play an increasingly important role as will private farmers. All the major areas, though, including tourism, light industry and large scale agriculture will remain in the state sector," he replied.
No targets have yet been set but he suggested that in terms of numbers the private sector could account for some 45% of employment in the province.
In terms of revenues, though, the state would continue to be the major player.
The economic reforms which President Castro got Congress to agree to are about making the state system work more efficiently.
Central planning rather than the market will continue to dominate, even though more space will be given to small scale private enterprise and co-operatives.
In a country where capitalism has long been considered a form of exploitation and free enterprise a dirty word, these cautious changes do mark the crossing of an important ideological divide.
It is the responsibility of provincial communist party bosses like Jorge Luis Tapia to implement the economic reforms at a local level.
Those who can successfully deliver change could be the ones to watch out for in the coming years.