Mexico holds suspect over Juan Francisco Sicilia murder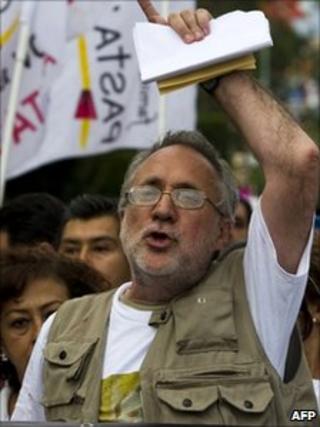 Mexican police have arrested a man they suspect of being behind the murder of Juan Francisco Sicilia and six other young men in March.
Julio de Jesus Radilla, known as El Negro and an alleged drug gang leader, was detained in the state of Veracruz.
Mr Sicilia's murder prompted his father, the poet Javier Silicia, to lead anti-violence marches in Mexico.
More than 34,000 people have been killed in drug-related violence since December 2006.
Mr Radilla and two other men were detained in Coatzacoalcos in Veracruz, where they had been hiding since the killings in March, officials said.
Authorities suspect Mr Radilla of being the leader of the Pacifico Sur drug cartel in the central state of Morelos.
Juan Francisco Sicilia and the other six victims were murdered near Cuernavaca in Morelos. Bearing signs of torture, their bodies were found in and around a vehicle.
Officials said Mr Radilla had no previous ties to the victims, and they had no links to the drug gang.
Most of those killed over the past four and a half years have died in confrontations between rival gangs.
But the rising violence in many parts of Mexico and the number of innocent victims have led to increasing calls for an end to the bloodshed.
Mr Sicilia blamed both the government and the criminal gangs for the violence.
In a speech in May, Mexican President Felipe Calderon said the murders had shocked Mexico but he urged all Mexicans to support his government's four-year crackdown on drug cartels.