Mexican army general Jorge Juarez Loera shot dead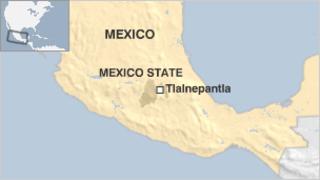 Officials in Mexico say a senior army general who had just retired from office has been killed near Mexico City.
Until his retirement earlier this month, Gen Jorge Juarez Loera was the number three in the Mexican army and a key figure in Mexico's war on drugs.
Officials said the general was shot dead when he got out of his car after a traffic accident in Tlalnepantla.
It is not clear if he was deliberately targeted.
Gen Juarez Loera, 65, was travelling in a private car north of the capital Mexico City and wearing civilian clothes.
Officials say he was shot moments after he got out of his car to investigate an accident.
Until 2008, Gen Juarez Loera headed the Joint Operation Chihuahua which targeted drug trafficking in the northern states of Chihuahua, Coahuila and Durango.
The northern states have been hardest hit by the drug-related violence in which more than 35,000 people have been killed nationwide since President Felipe Calderon came to power in December 2006.