Daniel-Gerard Rouzier named Haiti's new prime minister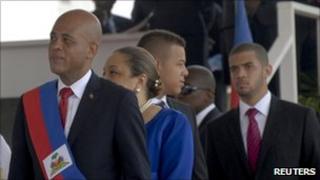 Haitian President Michel Martelly has chosen US-educated businessman Daniel-Gerard Rouzier as prime minister.
It is President Martelly's first major appointment to his new administration.
Mr Rouzier's appointment will have to be approved by both chambers of parliament before he can take up the post.
The two chambers of parliament are dominated by the Inite party, who backed Mr Martelly's rival for the presidency.
But a member of Mr Martelly's cabinet said that the president had chosen Mr Rouzier after lengthy discussions with the presidents of both chambers to ensure his candidate would receive their backing.
Mr Rouzier runs several companies in Haiti, including a car business and an electric power company.
President Martelly has been criticised by his rivals for his lack of political experience.
A popular singer, he has never before held public office.
In his inaugural address he promised to change the country.
He said he would bring an end to the instability which has beset Haiti since last year's devastating earthquake, but went into little detail as to how he would achieve such sweeping change.