Uruguay Congress upholds military rule amnesty law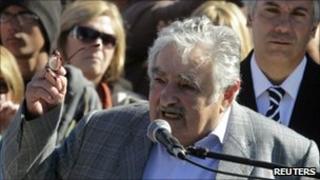 Lawmakers in Uruguay have rejected a bill which would have scrapped an amnesty protecting officers during military rule from prosecution.
President Jose Mujica had asked his party to uphold the amnesty, despite having spent years in jail under military rule between 1973 and 1985.
Mr Mujica warned of the "political dangers" of scrapping the amnesty.
He also reminded Congress that Uruguayans twice backed the amnesty law in referendums in 1989 and 2009.
Under military rule, Uruguay had the largest number of political prisoners in the world, and some 200 people were kidnapped and killed.
'Lost opportunity'
Human rights activists have criticised the amnesty and President Mujica's decision to support it.
Congressman Felipe Michelini, a member of the ruling Broad Front party whose father was killed under military rule, said that "to this very day, the truth remains kidnapped."
Amnesty International said Uruguay had "missed a historic opportunity in the pursuit of justice".
"Uruguay has a moral and legal obligation to provide justice to those who suffered from torture and other abuses - not to protect their torturers from investigation and trial," said Guadalupe Marengo, the deputy director of the group's Americas programme.
President Mujica originally supported the law aimed at scrapping the amnesty, but changed course after Uruguyans voted to keep the amnesty in a 2009 referendum.
Rebel past
Speaking at Uruguay's bicentennial celebrations on Wednesday, he warned people not to "transfer the frustrations of our generation to the new generations".
Referring to his past as a member of the rebel Tupamaros movement in the 1960s and 1970s, Mr Mujica said he made that statement "as an old man who once had a gun in my belt".
Friday's vote followed a 14-hour-long debate.
It was tied until a member of the Broad Front left the chamber, leaving the opponents of the amnesty one vote short.
The Uruguayan Supreme Court has found the amnesty unconstitutional on several occasions on the grounds that it violates constitutional provisions and the country's international obligations, but it remains on the books.