Ecuador referendum final tally gives Correa victory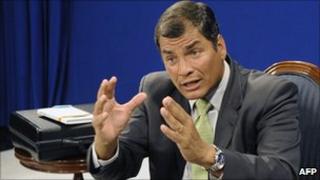 Final results in Ecuador's 7 May referendum on political reforms have handed victory to President Rafael Correa.
The president's plans include greater control over the media and judiciary, but his win still needs final confirmation from the national electoral council.
The opposition has several days to challenge the results.
The margin of his victory is slimmer than first expected.
The final count shows the Yes camp gathered between 44.96% and 50.46% of the vote on the nine proposals put to the voters.
The No vote accounted for between 39.25% and 42.56%.
Mr Correa won approval on two of the most controversial proposals that would hand him more power over media content and ownership, as well as greater control of the judiciary.
On the question of judicial reform, the Yes camp cast 310,000 votes, whereas the No camp polled 250,000 ballots.
The country's parliament will next week have to debate the proposals governing the media.
However, opposition politicians may call the results into question by filing complaints to the electoral authorities.
They have argued that Mr Correa's reforms constitute power grab.
One of the most controversial proposals was a ban on bullfighting.
Final results show the practice of killing bulls in over half of Ecuador's 204 electoral districts is to be outlawed.
The referendum was widely seen as a popularity test for Mr Correa, ahead of the 2013 presidential elections, when he is widely expected to run for a third time.