Argentina plane crash kills all 22 people on board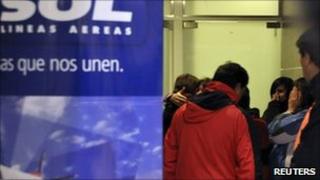 A small plane has crashed in southern Argentina, killing all 22 passengers and crew on board, officials say.
The plane went down in the Patagonian province of Rio Negro, after issuing a distress call, the operating company Sol Airlines said.
Rescuers were sent to the crash site near the town of Los Menucos.
A local hospital director said no one had been found alive and that "everything was destroyed and burned", Argentine media reported.
The plane, a Saab 340 turboprop with capacity for 34 people, was carrying 19 passengers, including a baby, and three crew.
It was on a flight between Neuquen near the Andes to Comodoro Rivadavia.
Wreckage was found some 25km (15 miles) south-west of Los Menucos.
Ball of fire
Argentine media reported that the plane, which crashed on Wednesday night local time, may have iced up.
However, a statement from Sol Airlines said there was so far no indication of what had caused the crash.
The company said it received an emergency communication from the plane at just before 2100 local time (2400 GMT ) about halfway into the flight.
Los Menucos Mayor Mabel Yahuar said a man had seen a ball of fire fall from the sky and alerted the authorities.
But it was difficult for emergency services to reach the crash site, given the terrain and that it was night, she said.
"There's no mobile phone signal in the area. It is an uninhabited place and really cold," Ms Yahuar was quoted as saying by Clarin newspaper.