Guatemalan forces hunt killers after farm massacre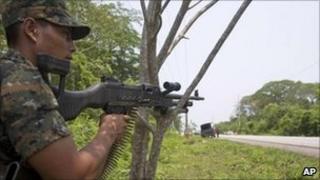 Guatemalan soldiers and police have raided several locations in the north of the country in the hunt for those behind the massacre of 27 farm workers.
A month-long state of siege is in force in the region, giving the army extra powers to detain suspects.
The authorities say Mexico's Zetas drug cartel was behind the attack, in which most of the victims were beheaded.
Some of the bodies have been returned to their families, but 18 were buried without being identified.
Officials said they took the step as the mutilated corpses were decomposing rapidly.
The local mortuary lacked refrigeration, one official told AFP news agency.
There were traumatic scenes in local communities at funerals for the identified victims.
Among those buried on Tuesday was 13-year-old Jose Arnulfo Rodriguez Gomez.
"Our lives will never be the same," his aunt, Maria Consuelo Rodriguez Mendoza, told Guatemala's Prensa Libre newspaper.
'Total savagery'
Her brother and another nephew were among the victims.
A survivor of the attack recounted how armed men arrived at the ranch in Peten province on Saturday demanding to see the landowner.
When workers refused to co-operate the attackers bound their hands and started hacking at them with machetes.
The farm worker says he survived by playing dead.
Police said the killings could be linked to a battle between drug gangs fighting for control of the area and have pinned the blame on Mexico's Zetas cartel.
Mexican cartels have been expanding their operations into Guatemala, which is an important transit point for drugs smuggled from South America to the US.
Guatemalan President Alvaro Colom again visited Peten on Tuesday to oversee the security operations.
"This was total savagery," he told Mexico's RVS Radio. "These poor people were labourers. There was no evidence they had weapons."
The authorities say they detained a man in connection with the murders after a shootout on Monday.
Police are on "maximum alert", officials say, after callers threatened to attack security forces searching for suspects in the region.