Ecuador probes President Correa 'link' to Farc rebels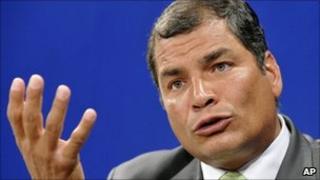 Prosecutors in Ecuador have said allegations that President Rafael Correa's election campaign accepted funds from Colombian rebels in 2006 will be investigated.
A London think tank said last week that there were links between between the Farc rebels and Mr Correa.
Their report was based on documents from the laptop of a Farc commander killed by Colombian troops in 2008.
Mr Correa denies having had any dealings with the left-wing rebels.
He said the allegations, which surfaced several years ago, were a "hoax".
"My hands are clean," he said after the International Institute for Strategic Studies (IISS) published research on ties between the rebels and neighbouring Venezuela and Colombia..
"I'll take a lie detector test to prove I never received funds from the Farc," he added.
'Awareness of negotiations'
The IISS report is based on a two-year study of e-mails and documents recovered during a raid by Colombian forces on a Farc camp in Ecuador in March 2008 and testimony provided by a former rebel who later defected.
A laptop used by Farc commander Raul Reyes, who was killed in the raid, was discovered.
The IISS said the rebels recounted being approached by Mr Correa's campaign team before the 2006 elections which saw Mr Correa elected to his first term as president.
He was re-elected in 2009.
Contact was made first with an intermediary, then by telephone and in person with Ricardo Patino (currently Ecuador's finance minister).
Finally there was contact between the Farc and Mr Correa himself "in a series of three telephone conversations in which Correa clearly showed an awareness of ongoing negotiations between his subordinates and Farc", the IISS report said.
Both Ricardo Patino and President Correa have vehemently denied they have ever had dealings with the Farc.
Meanwhile, counting is nearly complete after a referendum held on 7 May on a range of issues, including Mr Correa's proposals for judicial and media reform.
Results show that voters have backed proposals to overhaul the judiciary by 46% to 42.5%, while plans to set up a body to regulate media content have been approved by 45% to 42%.
The margin of victory is much narrower than first announced.
The referndum has been seen as a popularity test for Mr Correa ahead of the 2013 elections, in which he is expected to run for a third term as president.