US pilots avoid jail in fatal Brazil air collision case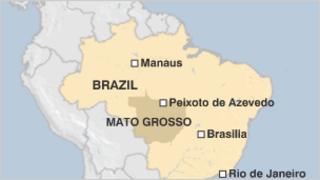 A Brazilian judge has sentenced two US pilots in absentia to four years and four months for their role in a fatal air crash over the Amazon in 2006.
Joseph Lepore and Jan Paul Paladino had not checked that equipment transmitting their position and altitude was working, Judge Murilo Mendes said.
But he commuted their sentences to community service in the US.
In September 2006, the pilots' small jet and a Brazilian passenger plane collided, killing 154 people.
It was one of the worst crashes in Brazilian aviation history.
Judge Mendes said that the pilots had been negligent in failing to check that their plane's transponder was working and giving accurate information about their speed, height and position.
"They were passengers for an hour," the judge said. "An hour in aviation time is an eternity."
Errors
Judge Mendes sentenced the two men to four years and four months in jail in a semi-open prison.
But he commuted the term to community service, ruling that the defendants had not committed further crimes and there was no indication of other failings in their long careers as pilots.
"The punishment is very mild. We are disappointed," said Angelita De Marchi, from a group representing the families and friends of those who died.
The passenger plane was on a scheduled flight from Manaus to Rio de Janeiro when it was in a mid-air collision with the executive jet over the state of Mato Grosso.
The US pilots managed to make an emergency landing, and all seven people on board survived.
The passenger plane, a Boeing 737 with 154 passengers and crew, crashed into the Amazon rainforest near Peixoto de Azevedo, killing all on board.
A report by the National Transport Safety Board (NTSB) concluded that the probable cause of the crash was that Brazilian air traffic controllers had put the planes on a collision course as a result of a number of "individual and institutional errors".
The Brazilian authorities concluded that there were errors committed by air traffic control and by the pilots.