Argentina Dirty War officers jailed for mass killing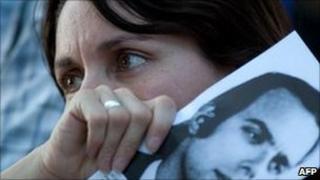 A court in northern Argentina has sentenced eight ex-army officers to life in jail for killing unarmed activists during military rule.
Twenty-two people, mostly members of the Montoneros rebel group, were tortured and killed on 13 December 1976 after surrendering to the army.
The massacre is named after the town of Margarita Belen where it happened.
The killings are among the most prominent cases of abuse from the 1976-1983 Dirty War era.
After a trial lasting almost a year, the court in the province of Chaco passed the harshest penalty at its disposal for crimes against humanity.
Shortly after the judges read out the sentencing, friends and family of the victims began applauding outside the courthouse.
'Relief'
The convicted former officers are Gustavo Athos, Horacio Losito, Aldo Martinez Segon, Jorge Daniel Carnero Sabol, Ricardo Guillermo Reyes, German Emilio Riquelme, Ernesto Jorge Simoni and Luis Alberto Patetta.
A ninth defendant, form police officer Luis Alfredo Chas, was found not guilty.
Although 22 people were shot dead, the defendants were being tried on 11 counts of murder.
The military had for a long time insisted that the victims of the massacre were in fact armed rebels who had ambushed an army convoy.
However, during the trial the court heard how the army had rounded up unarmed guerrilla fighters and some political activists and driven them to the outskirts of Margarita Belen where their remains were buried.
The daughter of one of those killed in the massacre, Dafne Zamudio, told Argentine media the truth of the events in 1976 had been established.
"Certain sectors of society believed the story that it was an ambush and justified the killings. This trial showed they were shot dead."
Another relative Martin Diaz, said: "I feel a small sense of relief."
The killings happened just a few months into the seven years of military rule in Argentina that became known as the Dirty War.
An estimated 30,000 people were kidnapped, tortured and killed.
Some leading members of the military were tried after the return to civilian rule in 1983, but then given an amnesty.
More than 20 years on, the amnesties were ruled unconstitutional, clearing the way for trials to resume.