Guatemala massacre survivor recalls gruesome ordeal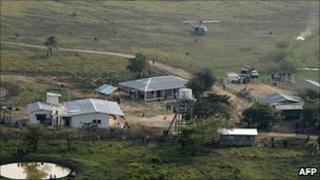 A farm worker in northern Guatemala has told how he managed to survive a gruesome massacre at the hands of a suspected Mexican drugs cartel.
The man said armed men arrived at his ranch in Peten province on Saturday demanding to see the landowner.
When workers refused to co-operate the gangsters bound their hands and started hacking at them with machetes.
Many of the 27 victims were decapitated but the farm worker says he survived by playing dead.
He lay in the grass until the gang had gone and was found by police who arrived at the scene on Sunday morning.
"I thank God I am still alive," the man told AFP news agency. He has not been named for security reasons.
"I played dead when they stabbed me in the stomach. Then I hid and left at around 5am and I came across a pile of human heads," he said.
The man is now under armed guard while being treated at a hospital.
The ranch is close to Guatemala's border with Mexico.
The attackers are thought to be members of the powerful Zetas drugs cartel, the authorities say.
Police said the killings could be linked to a battle between drug gangs fighting for control of the area.
They say there are also suspicions the massacre could be linked to the murder of Haroldo Waldemar Leon - the brother of an alleged Guatemalan drugs boss - who was shot in the same area on Saturday.
Guatemala President Alvaro Colom, who flew to Peten on Monday, condemned the killings.
"This is a barbarity," he said. "We will get them even if they are hiding in their lair. We will get them."
Mexican cartels are increasingly moving into northern Guatemala, an important transit point for drugs smuggled from South America to the US.
Guatemalan law enforcement officials say the gang has increasingly moved its operations south since Mexican President Felipe Calderon stepped up his country's fight against the drugs trade.