Headless bodies found in northern Guatemala drug region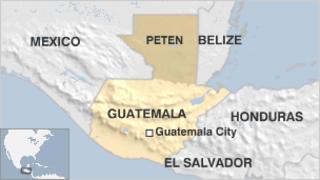 The decapitated bodies of at least 25 men and two women have been found near Guatemala's border with Mexico.
The bodies were discovered on a ranch in Peten province, 500km (310 miles) north of the capital.
Police said the killings could be linked to a battle between drug gangs fighting for control of the area.
Mexican cartels are increasingly moving into northern Guatemala, an important transit point for drugs smuggled from South America to the US.
"This is the worst massacre we have seen in modern times," police spokesman Donald Gonzalez told Reuters.
Army spokesman Col Ron Urizar told the Spanish news agency, Efe, that dozens of soldiers had been sent to the Mexican border to prevent any suspects from fleeing the country.
He said ground and aerial surveillance was being carried out in co-ordination with the Mexican authorities.
Officials said the victims, who were believed to have been workers on the ranch, appeared to have been ambushed by gunmen.
Their bound bodies showed signs of torture, police said.
They are investigating whether the deaths were related to the Zetas drug gang, which has been expanding its operations into Guatemala from Mexico.
There are also suspicions the massacre could be linked to the murder of Haroldo Waldemar Leon, who was shot in the same area on Saturday.
He was the brother of alleged drugs trafficker Juan Jose "Juancho" Leon, who was shot dead in an attack blamed on the Zetas in 2008.
Guatemalan law enforcement officials say the gang has increasingly moved its operations south since Mexican President Felipe Calderon stepped up his country's fight against the drugs trade.