Ecuador's Rafael Correa: 'Give me a lie detector test'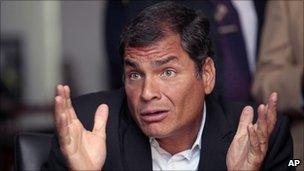 Ecuadorean President Rafael Correa says he is prepared to take a lie detector test to prove he did not accept money from Colombian left-wing rebels.
Mr Correa's denial comes three days after a UK think tank alleged links between Farc rebels and Ecuador.
The report's authors said they had seen testimony from a rebel which allegedly detailed Mr Correa's knowledge of Farc contributions to his campaign.
At a news conference, President Correa denied ever meeting the Farc.
"My hands are clean," he told media in Quito on Friday.
"I'll take a lie detector test to prove I never received funds from the Farc," he added.
Allegations that President Correa's campaign received financing from the Marxist guerrillas resurfaced on Tuesday.
The London-based International Institute for Strategic Studies published research on ties between the rebels and neighbouring Venezuela and Colombia.
It is based on a two-year study of e-mails and documents recovered during a raid by Colombian forces on a Farc camp in Ecuador in March 2008 and testimony provided by a former rebel who later defected.
The researchers said the former rebel's testimony "appears to detail Mr Correa's personal interest in and knowledge of illegal Farc contributions to his campaign".
The report says the rebel recounted "being lobbied by Correa's campaign team before the presidential elections, speaking first with an intermediary; then by telephone and in person with Ricardo Patino (currently Ecuador's foreign minister) and finally with Correa himself in a series of three telephone conversations in which Correa clearly showed an awareness of ongoing negotiations between his subordinates and Farc".
Both Ricardo Patino and President Correa have vehemently denied they have ever had dealings with the Farc.
Mr Patino told the Associated Press news agency he had never in his life seen anyone from the Farc.
President Correa said the claims were a "monumental lie".
Related Internet Links
The BBC is not responsible for the content of external sites.