Chile: Miner Jose Ojeda wants 'Los 33' message back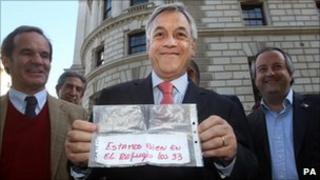 A Chilean miner, who wrote the message that told the world he and his colleagues trapped deep underground were still alive, wants the note back.
Jose Ojeda says he wants the Chilean government to return the scribbled paper, which translates as "We are okay in the refuge, the 33 of us".
The Chilean government says it wants the message to be exhibited in a museum so that all Chileans can see it.
But Mr Ojeda says it is up to him to decide if it will be put on show.
'Nothing happened'
The note, in Spanish "Estamos bien en el refugio los 33", was discovered attached to a probe 17 days after the mine collapsed last year.
Government spokeswoman Ena von Baer said that "the idea of the government is to have everything related to the rescue brought together in a museum, where all Chileans can see them, and that includes the note which alerted us to the fact that the 33 miners were alive".
Ms von Baer said the final decision would be taken after holding discussions with the miners and their families.
But Mr Ojeda told a Chilean newspaper he wanted the original note back.
"I was told six months ago to ask for a meeting with the president; they told me to send a letter to the presidential palace... but nothing happened," he said.
Chilean President Sebastian Pinera took the note with him on his tour of European countries and showed it to a number of heads of state.
"I think it's fine for him to keep it for a few months, but he can't just take something that I wrote," Mr Ojeda is quoted as saying by La Cuarta newspaper.
The message brought hope to the nation and was seen on many flags, mugs and T-shirts during the rescue operation.
Shortly after the rescue, Chilean writer Pablo Huneeus registered the phrase on Mr Ojeda's behalf.
Mr Ojeda said it was up him to decide if and where the note was exhibited.
The mine near Copiapo collapsed in August 2010, cutting off the miners at a depth of more than 700m (2,300ft).
The fate of the 33 men trapped in a hot, dark tunnel for 69 days gripped the attention of people around the world.
Millions watched as they emerged one by one from underground after a massive rescue operation had managed to drill a hole large enough to pull them to the surface.