Brazil to triple electricity payments to Paraguay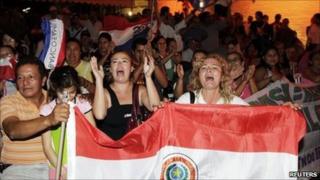 The Brazilian Senate has given final approval to a deal tripling the amount Brazil pays Paraguay for energy from their joint Itaipu hydroelectric dam.
Brazil's yearly payments to Paraguay will rise to $360m (£220m) from the current $120m.
The deal was reached in 2009 by Paraguayan President Fernando Lugo and then Brazilian head Luiz Inacio Lula da Silva, ending a long-running dispute.
Critics say the move will mean Brazilian consumers paying more.
The Itaipu dam, one of the world's biggest, was inaugurated by Brazil and Paraguay in 1984, with each country having the right to 50% of the energy generated.
Paraguay uses only about 5% of its share but under the terms of the initial treaty had to sell its surplus to Brazil at a fixed price.
Prsident Lugo said the price was far too low compared with what Paraguay could get from selling to other South American nations or on Brazil's unregulated energy market.
The Brazilians long argued that they paid for most of the vast project's construction, and that Paraguayans had to pay their fair share.
The 2009 deal followed months of wrangling between the two countries.
The vote by the Brazilian Senate to approve the agreement came amid vocal opposition from some quarters.
Brazilian consumers would clearly be affected by the increase in payments, said Senator Itamar Franco.
In Paraguay, people followed the proceedings in the Brazilian Senate on television, cheering loudly when the deal was approved.
Current Brazliian President Dilma Rousseff is due to visit Paraguay on Sunday.