Honduras ex-president Manuel Zelaya wants to go home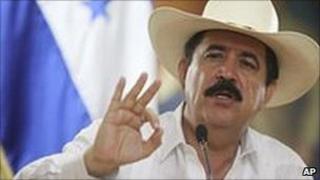 Honduras' former President Manuel Zelaya - ousted two years ago - wants to return home, his aides say.
Last week a Honduran court dropped all corruption charges against Mr Zelaya, who is currently living in the Dominican Republican.
His chief aide says mediation efforts have made good progress.
Mr Zelaya was sent into exile in June 2009 amid a power struggle over his plans for constitutional change, triggering a political crisis.
His chief aide, Rasel Tome, told the BBC there could be an international agreement "in a matter of days or weeks", but some points still had to be resolved.
"First, the powers that be in Honduras need to agree to the setting up of a constituent assembly," Mr Tome said, "and recognise the political movement in support of President Zelaya as a legitimate political party."
Colombia and Venezuela are acting as mediators between Mr Zelaya's supporters and the government of current Honduran president Porfirio Lobo.
Another senior member in Mr Zelaya's team, Juan Barahona, told journalists that the former leader is likely to make his return before the end of May.
Suspended from OAS
Earlier this month, an appeal court in Honduras dropped all corruption charges against Mr Zelaya.
Previously a judge had revoked an arrest warrant against him.
However, Honduras is still suspended from the Organization of American States (OAS).
It was expelled from the OAS and many countries broke off ties after Mr Zelaya was removed from power.
Mr Zelaya was bundled out of Honduras by the military in June 2009 after he failed to abide by a Supreme Court order to cancel a non-binding vote on changing the constitution.
His critics said his planned constitutional consultation aimed to lift the one-term limit on serving as president - paving the way for his possible re-election.
Mr Zelaya repeatedly denied this and pointed out that it would have been impossible to change the constitution before his term in office was up.