Guatemala ex-president Portillo cleared of wrongdoing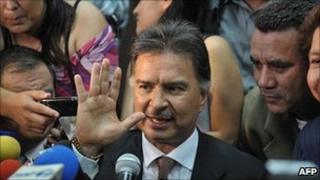 Former Guatemalan President Alfonso Portillo has been cleared of embezzlement charges.
A court in Guatemala City freed him but ordered him to stay in the country in case there was an appeal.
The judges ruled that the prosecution had not presented enough evidence to link Mr Portillo to the alleged fraud.
He had been accused of stealing $15m (£9.7m) of public funds from the defence ministry between 2001 and 2004.
Charges were also dismissed against his two co-defendants, former Defence Minister Eduardo Arevalo and former Finance Minister Manuel Maza.
During the trial, the court heard how Mr Portillo had allegedly taken public funds and hidden them in offshore bank accounts, charges he always denied.
Mr Portillo is wanted in the US for allegedly embezzling foreign donations for education projects.
France has also made an extradition request on similar charges.
He and his lawyers have promised to fight any extradition attempt.