Cuba denies dissident died after police beating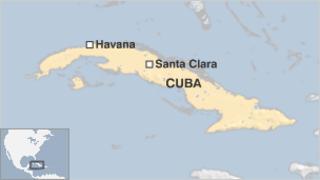 The Cuban government has strongly denied that police beat a dissident who later died.
Juan Wilfredo Soto, 46, who suffered a range of health problems, died from natural causes, officials said.
The authorities accused what they termed "counter-revolutionary elements" of fabricating lies about his death.
Dissident groups had accused police of hitting Mr Soto during a protest in the city of Santa Clara last Thursday. He died three days later.
In a statement read on state television, the Cuban government said an initial post-mortem showed Mr Soto had died a natural death as a result of organ failure brought on by an inflamed pancreas.
There was "no evidence of external or internal violence", the statement said.
Reports that Mr Soto had died as a result of being beaten by the police was an "unscrupulous" lie amplified by "imperialist media disinformation" - a reference to foreign news organisations, the statement went on.
Mr Soto is is said to have had a number of health complaints, including diabetes, heart problems and gout.
But several dissidents said a beating at the hands of the police had provoked his death.
"There is not the slightest doubt that there was a cause and effect, and that Soto's death was related to the beating he was given," said dissident Guillermo Farinas, who lives in Santa Clara.
Mr Soto was among those who supported a 134-day hunger strike by Mr Farinas last year to press for the release of political prisoners.
Cuban authorities generally refer to dissidents as common criminals or mercenaries paid by Washington to destabilise the communist system.
In an unprecedented agreement with the Roman Catholic Church, Cuban President Raul Castro has released dozens of political prisoners over the past year, many of whom have gone into exile in Spain.