Ecuador President Rafael Correa 'wins referendum'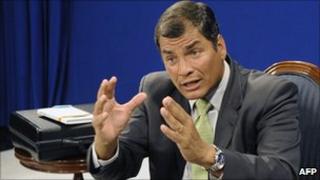 Results so far in Ecuador's referendum suggest most of the reforms proposed by President Rafael Correa are on course to be approved.
But the margin of the Yes victory appears to be much slimmer than expected.
And two of the key questions, relating to judicial and media reform, appear to be technically tied with just under 40% of votes counted.
Mr Correa was quick to declare victory, saying democracy had triumphed.
Opposition politicians say the reforms are an attempt by the president to increase his power.
Mr Correa celebrated victory after exit polls suggested voters had backed the proposals, in some cases by margins of more than 20 percentage points.
"Today, we made an important step toward peace, democracy and a new motherland," he said on Saturday night.
"The truth and the Ecuadorean people have been the winners in this."
However, as results have come in, the scale of the victory appears to be much smaller.
The National Electoral Council's website so far shows the Yes votes ranging from 44% to 50%, while the No camp has garnered between 40 to 44%.
Opposition politicians argued that some of the more controversial proposals, such as giving the president more of a say over judicial appointments, constituted a power grab.
"If we don't transform the judiciary, we won't be able to transform the country," Mr Correa told the Telesur network on Sunday.
"Of course, I'm meddling in the judiciary but my hands are clean. These are the hands of 14 million people in Ecuador, the hands of democracy."
Other reforms include limiting who can own media organisations, and setting up a panel to regulate media content.
One of the most controversial proposals was a ban on bullfighting.
Saturday's vote was widely seen as a popularity test for Mr Correa, ahead of the 2013 presidential elections, when he is widely expected to run for a third time.