Cuba dissident Juan Wilfredo Soto 'dies after arrest'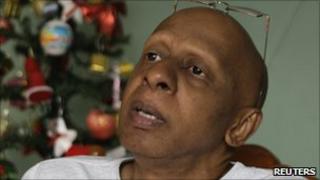 A Cuban government opponent has died several days after being arrested and allegedly beaten by police, dissidents have said.
Juan Wilfredo Soto, 46, had to receive hospital treatment after being detained during a protest Santa Clara.
One prominent dissident, Elizardo Sanchez, has called for an independent inquiry, saying Mr Soto's death should not go unpunished.
Cuban authorities have made no immediate comment on the death.
Mr Soto died on Sunday in the central city of Santa Clara, fellow dissident Guillermo Farinas told the Associated Press news agency.
He said Mr Soto had been detained and beaten on Thursday during an anti-government protest.
Mr Soto was among those who supported a 134-day hunger strike by Mr Farinas last year to press for the release of political prisoners.
"If we do not do something, so that the government changes its stand toward peaceful protesters, we are going to be reporting even more deaths," Mr Farinas told AFP.
Mr Soto is is believed to have had a number of health complaints, including diabetes, heart problems, and gout.
But Mr Sanchez, leader of the dissident Cuban Commission for Human Rights and National Reconciliation, said he was convinced Mr Soto's death was linked his detention.
"We believe that the blows he received were a catalyst," he said, adding: "We do not think there was a political intent to kill him, but there was a struggle when he was yelling anti-government slogans."
Cuban authorities generally refer to dissidents as common criminals or mercenaries paid by Washington to destabilise the communist system.
In an unprecedented agreement with the Roman Catholic Church, Cuban President Raul Castro has released dozens of political prisoners over the past year, many going into exile in Spain.
But human rights groups say that there has been an increase harassment, intimidation and violence against opposition voices since then, the BBC's Michael Voss in Havana says.